North Texas Giving Day (NTGD)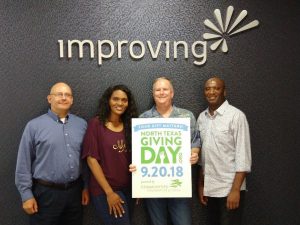 Communities Foundation of Texas' 10th Annual North Texas Giving Day will be Thursday, September 20, 2018! This event is an 18-hour giving extravaganza to benefit local nonprofits and make a difference in North Texas. In ten years, this online event has transformed from an idea to help raise awareness of nonprofits, to a movement that has ignited a broad culture of community-wide giving. During North Texas Giving Day, everyone has the opportunity to be a philanthropist to build a stronger and more vibrant community.
Please consider donating to Agile For Patriots. Your donation can provide the necessary resources to our veterans as they work to gain new job skills and seek employment.