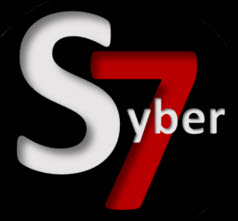 Welcome to Syber7, Agile for Patriots' seventh cohort.  This group of four included three military veterans and one military spouse.  We documented our professional journey as part of this two-week practicum that allowed us to demonstrate our ability to implement the Agile Scrum framework while showcasing our diverse creative backgrounds, professional strengths, collaborative skills.
We hope that our documented journey will inspire companies to adopt and utilize Agile Scrum to address their complex problems and projects.  We also hope to encourage more veterans and military spouses to take advantage of this amazing program offered through Agile for Patriots.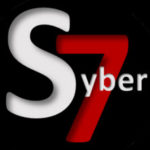 Thank you for showing interest in my Agile Scrum ability, here you will see how our team completed a project using the skills, mindset, and framework I received to complete our product goal.
Through commitment, dedication and focus on the Agile/Scrum values, our team created and built this webpage. As one of the participants in the Developer's role in Cohort 7, I am ready to become fully immersed and to discuss bringing value added Scrum skills as well as my past experiences to your organization.
* David Whitley Started with Syber7 and was a intgral part of our team.  He designed our logo and gave great insight to the Sprint process.  David received a occupation offer which he had to begin work in the middle of the Cohort, his detication to the team will be remembered by all.
I am glad you are here to see the collaborative work of Syber7.  We exercised Scrum Values which mirror those we practiced during our military service.  Thanks to AFP, I have earned my Scrum Master Certification and I am confident that I can help your company or organization implement the Agile Mindset using Scrum Framework. 
It All Starts with the Plan
Product Goal
To Display how Cohort7 "Syber7" Scrum team can create a webpage within three Sprints, to enable them to show their combined efforts and skills to hiring managers.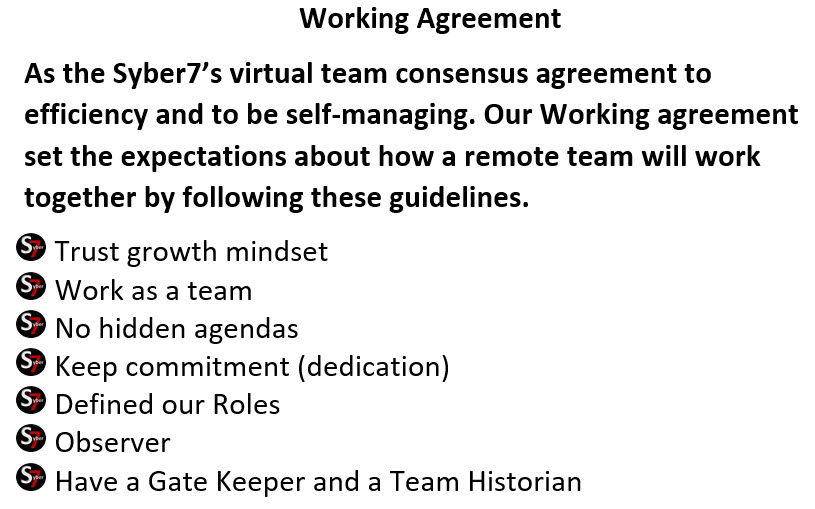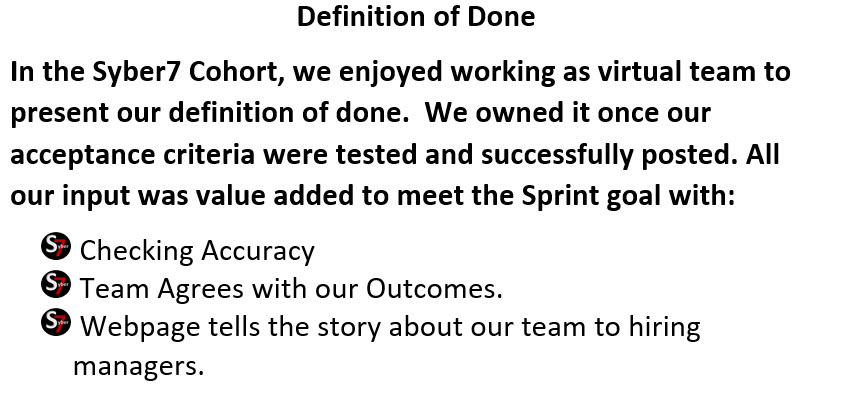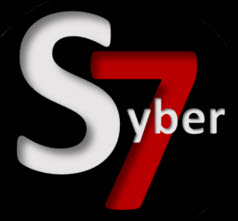 Scrum Definition
Scrum is a lightweight framework that helps people, teams and organizations generate value through adaptive solutions for complex problems.
Agile 101
Agile Development is a set of methods and practices where solutions evolve through collaboration between self-organizing, cross-functional teams.
We give special thanks to 
Sponsors 
Ravi Verma – Co-Founder, Agile for Patriots;                                      Founder, CEO SmoothApps
Greg Gomel – Co-Founder, Agile for Patriots;
Founder and CEO, The Gomel Group LLC
Janie Purvis, MSc                                                                                    Chief Operating Officer at SmoothApps;                                                  Syber7  "Product Owner"  for week 2
William "Red" Davidson                                                                     Syber7  "Product Owner"  for week 1
Host
SmoothApps
Speakers for the Cohort 7 – Syber7
 Ravi Verma – Coach and inspiring leader facilitated and introduced Agile/Scrum Principles.
 Joey Klein Presented and trained our   team tools Jira and Confluence to use for Product Backlog Items (PBI) and Backlog (BL) tracking.
 Theresa Mark – Educated our team about Servant Leadership – The Hidden Quality.
 David Lambert – Offered Service Delivery steps to efficiency to deliver services on-time and keeping everyone on the team together until completion.
  Don McGreal – Shared his expertise on Facilitation and Improving. Have a plan to get things done and to deliver something that works.
J Arbetter – Networking Strategy – The Personal Approach to Landing Your Dream Job.
Barb Van Hare – Mental Mind set and Self Care
Tim Dickey –   Core Values of our Military Services are mirrored by Scrum values
JW Washington – – Shared a personal journey. Discussed his engagement with his Scrum teams and the challenges a Scrum Masters face.
Derek Lane – Took us through a deep dive into Scrum during an Open Q&A Session
Philip Konecki –   Employment is a transaction between two people. We should represent ourselves as solutions to our employer's
Gabriela Garze-Ramos – Hiring in COVID-19